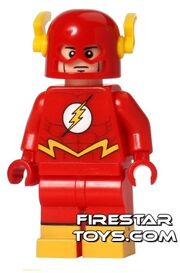 Wally West, (the Flash after Barry Allen) more known as The Flash is a well known DC Comics superhero who has made several appearances. He is portrayed by Toby Dale a.k.a. DirectorToby.
Appearance
Edit
He wears red Flash suit with red helmet with lighting bolts on two sides. It has Flash symbol on the suit. He also wears yellow boots with lighting bolts on 2 sides. His head has black eyes and red eyebrows resembling Wally West. This minifigure is designed by Christo.
Appearances
Edit
Portrayers
Edit
Toby Dale a.k.a. DirectorToby
Ad blocker interference detected!
Wikia is a free-to-use site that makes money from advertising. We have a modified experience for viewers using ad blockers

Wikia is not accessible if you've made further modifications. Remove the custom ad blocker rule(s) and the page will load as expected.